Be Mine Valentine Beer and Wine Tasting Tour
February 17th, 2019 - 11:30 AM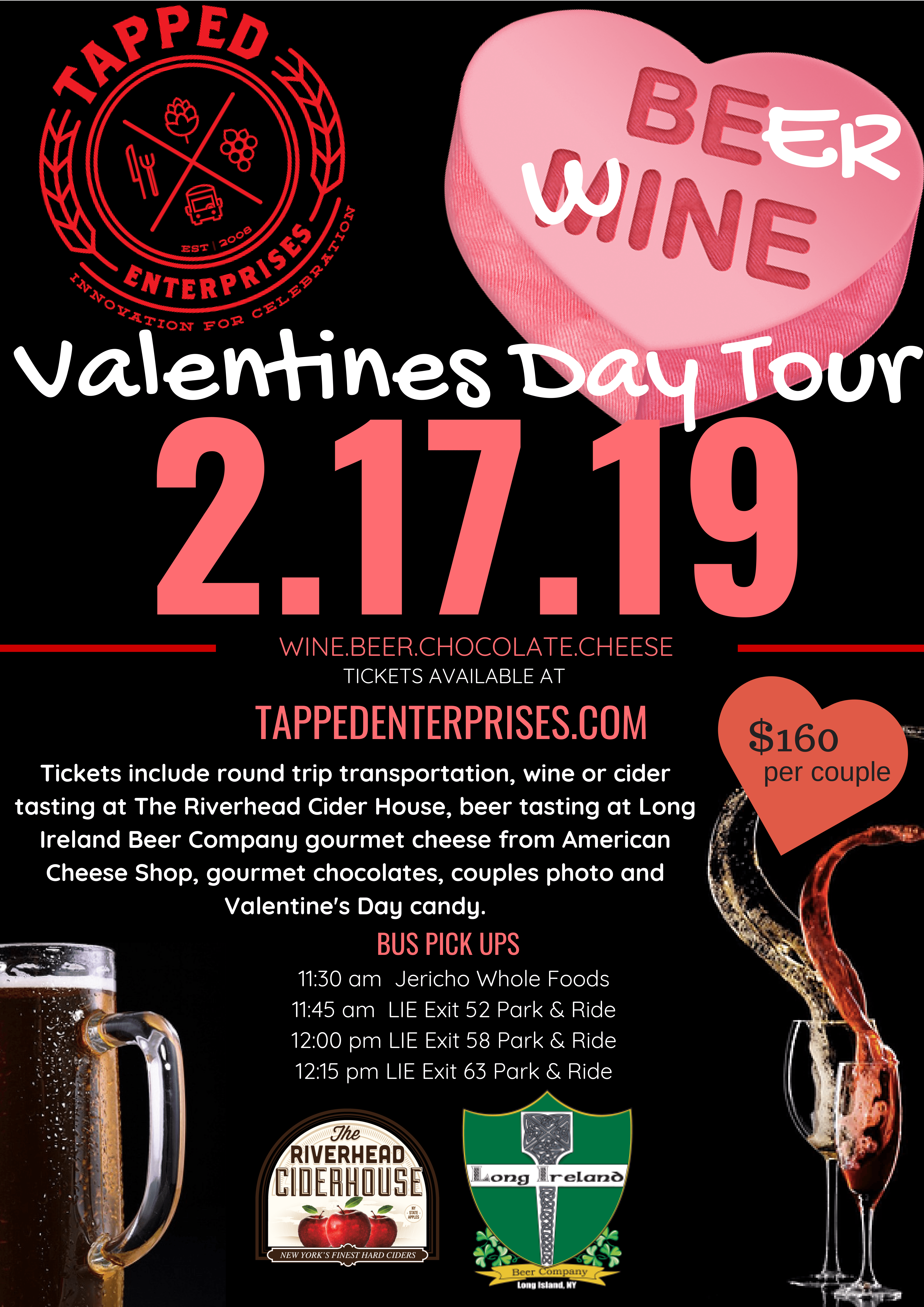 This public trip will be a great date for you and yours!
Pick up the bus at one of the convenient pick up locations down the Long Island Expressway. Enjoy gourmet chocolate and cheeses on the bus as we travel out to the picturesque North Fork of Long Island. First stop is the Riverhead Cider House where a tasting flight of cider or local wines is included. We will be at the cider house for an hour and couples have the option to get a couples photo in their large grandiose tasting room. After the Riverhead Cider House we will travel to Long Ireland Brewery in Riverhead where all guests will be able to taste a flight of their beers. We will head back to the pick up locations by 4:00 PM. See more info about the stops below.
Riverhead Cider House:
Situated at the gateway of the Long Island Wine Region, the Riverhead Cider House is a new and completely unique visitor destination unlike any other on eastern Long Island that offers a wide variety of naturally harvested apple ciders, locals beer and wine, and other apple products. Through diligent planning over the last three years, the Cider House has been researching and developing ciders from top apple brands from New York State, delivering crisp, exceptional flavors to the palate.
With deep previous experience in wine making, our Cider Master Greg Gove is now producing ciders that uses New York-grown apples in three delicious flavors: Benjamin's Best, Razmatazz and our Reserve cider. These ciders offer a natural gluten free option with no added sugars.
Complementing the overall tasting experience, Riverhead Ciderhouse is an 8,000 square foot facility with two floor-to-ceiling fireplaces that houses a tasting room, retail space and café, adorned in a décor of a natural rustic and brick setting. We are proud to serve fresh local produce indigenous to Long Island as part of the "Farm to Fork Revolution", as well as gourmet pizzas, sandwiches and other seasonal fares with a single goal in mind - to support our local farmers, culinary experts, artists and customers.
Long Ireland Beer Company:
Long Ireland began a little differently than most businesses. Two friends, Greg Martin and Dan Burke, got the crazy idea to go out and start a business because they wanted to do something they truly enjoyed: DRINK BEER! Well its a little more complicated than that but Dan can tell you when you are at the tasting room.
The Long Ireland Brewery is located in Riverhead, NY in the heart of Polish Town. Their friendly staff is always ready to pour one of their many beers they have on tap. Including some of their seasonal beers like Black Friday.

« Return to all events